SCUM events for 2014
A big thanks to Grant, Brad and Nick for stepping up and forming an 'Events Committee' so we all can ride SCUM events in 2014.
A full calendar will be up very soon but their first race (after the already planned 3+3 Enduro) will be on Easter Sunday 20th April....details soon.
*COONDOO signs stolen*
Some low life has removed 8 of the direction signs at Coondoo. These steel 'C' channel posts were driven into the ground a fair way and by the looks of the tracks around where the posts used to be, they've smashed them down with a 4WD....worse still, they've actually stolen them.
If anyone has any information about this at all, please email any of the contacts.
The Land Managers, Police and local media will be informed shortly.
....Keep your eyes and ears open for any suspect activity whilst riding Coondoo!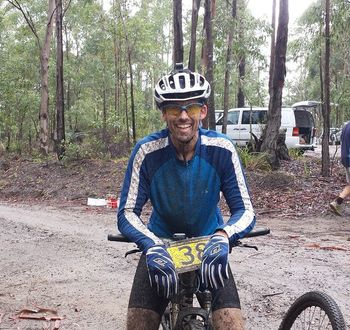 SCUM XMAS RIDE
The wet weather obviously scared a lot of people away from our annual SCUM Xmas ride. The riders that did show up were treated to a great track however the soggy conditions made for some hard going at times.
The Subway and softdrinks provided by the club were a much appreciated addition at the end of the days riding.
Thanks to all those that made the day a success.
Picture; Grant was all mud but all smiles.
It's with a heavy heart we announce the passing of our mountain biking brother and original SCUM member... ANDREW FELLOWS.
Andrew is survived by his wife Niki, daughter Taylor and son Aiden.
Our sincere condolences go to the family and we at SCUM are absolutely devastated....Rest in peace Drew, we miss you immensely!