---
---
also Series points post round 2
---
---
SCUM 2015 Calendar is posted
---
---
Why wear a Helmet?
Apart from it being the law and a condition of riding with SCUM, click HERE for a few more reasons for wearing yours. A big Thank You to Elizabeth and Patricia for sharing this valuable information for all at SCUM to read...
---
COONDOO signs stolen
Some low life has removed 8 of the direction signs at Coondoo. These steel 'C' channel posts were driven into the ground a fair way and by the looks of the tracks around where the posts used to be, they've smashed them down with a 4WD...worse still, they've actually stolen them.
If anyone has any information about this at all, please email any of the contacts.
The Land Managers, Police and local media will be informed shortly.
Keep your eyes and ears open for any suspect activity whilst riding Coondoo!
---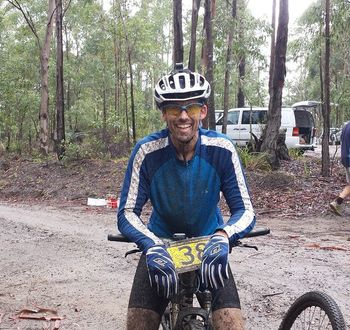 SCUM XMAS RIDE
The wet weather obviously scared a lot of people away from our 2013 SCUM Xmas ride. The riders that did show up were treated to a great track however the soggy conditions made for some hard going at times.
The Subway and softdrinks provided by the club were a much appreciated addition at the end of the days riding.
Thanks to all those that made the day a success.
Picture: Grant was all mud but all smiles.
---
In memory of our riding brother Andrew Fellows
Ride in Peace dude...