News & Weather
---
Watch the weather too as trails could be weather affected: Ride safe & have fun

---
February / March 2020 update - Trail closures continue
SCUM's trails are all located within NSW State Forests. Coondoo = Nowra State Forest; Superbowl & Butterfly = Currambene; Cabbage Tree Lane = Shoalhaven State Forest. To date all remain closed. A full list of closures can be found here https://www.forestrycorporation.com.au/visit/closures/widespread-closures-bushfires
Summer is drawing to a close, the fires have passed, the rains have come and still come!!! Got to love this country of ours. Unfortunately nothing has changed at this time with the closure of the State forests in the South Region. This has frustratingly left us in a bit of a state of limbo.
At this stage we can't hold any races on Superbowl or Butterfly and we can't access Coondoo to start the rebirth. Some work has been done in purchasing materials and prebuilding bridges ready to install as soon as we get the green light from the Forestry Corporation.
I'd like to thank all those generous people and businesses that helped us reach our goal of $5000 in our Go Fund me campaign and a huge thanks to Kath Hopkins (Secretary) and Paul Nixon (Treasurer) for coordinating this. It's certainly enough to make a great start in the rebuild of Coondoo. Just keep up your enthusiasm for the work ahead once we start. As soon as the closures are lifted and the area is declared safe in terms of fire damaged trees we'll be in there like a shot. Stayed tuned, it shouldn't take too long!!
If you are like me and are getting itchy feet to get some racing in then maybe take the trip to Sutherland. The Sutherland MTB club are starting their season off on Saturday Feb 22 with a short course race at Waratah Park Reserve. The Sutherland Shire Cycling Event will not only get your season going but all funds raised will be going to help with the rebuild of Coondoo so it'll be a great event to go and support. I hope to see a good turn out of SCUM riders at Waratah Park, it should be a blast.
With a bit of luck the next newsletter should be full of great news with all access to our great trails open. Stay tuned to Facebook & Insta because our short track will be on as soon as we can.
Nick Smee
Club President
---
January 2020 # 2- Trail Closure (Bush fires) update
Our Coondoo Trail remains completely off limits. Until the Forestry Corporation of NSW have the resources to properly assess the safety of this area and provide us with their decision regarding public access, we have no choice but to remain completely off-site. Representatives from the Forestry Corporation have informed us that this assessment may take some time to complete but have also assured us that they will do their best to make it a priority.
"Coondoo remains completely off limits"
I would like to take this opportunity to show my great appreciation to the Forestry Corporation and the Rural Fire Service for their efforts to try and save Coondoo. I know an immense amount of human and physical resources were put into trying to save this trail and the surrounding area. As a club we are very lucky to have strong support from the Forestry Corporation and we continue to prosper in our partnership with them.
While our Superbowl, Butterfly & Cabbage Tree Lane Trails have not been impacted by the fires, they too are currently off limits as all the State Forests in our region remain closed. However, we have sought 'special permission' from the Forestry Corporation to access these trails and feel confident that we have put forward a strong business case. Hopefully this will do the trick and the first Academy session scheduled for 31 Jan* at Superbowl and our first race set for 6 Feb* will be able to go ahead as planned.
The re-building of Coondoo
While we are waiting for the all clear to access and start the rebuild, we haven't been idle. A lot of work has gone into researching materials for the trail features and the gathering of resources has started. Companies like Ison's in South Nowra have offered generous support and we have purchased a quantity of "Ecograte" a product riders will be familiar with from many other trail networks to create the decks of bridges and log roll overs. Timber will still feature in many trail features though, like replacing the snake bridge in "Morocco Mole" and of course our "Wooden Berm". I'll keep the membership in the loop as things progress. We will have a Trail work day soon at Superbowl to try out some new materials and prepare for round 1 of the flow cross series, set down for 15th Feb*. As usual watch out on the Web, Facebook and Insta for upcoming working bees.
Raising funds for the re-building of Coondoo
As well as planning the re-build of Coondoo we have been busy exploring different ways to raise money to fund this huge task. Our peak body, Mountain Bike Australia has committed to supporting SCUM and other clubs impacted by the fires and we have been looking at different bushfire recovery grants as a way of securing much needed funds. However, it is likely to be some time before we see money from these sources. So to get the ball rolling we have started a Go Fund Me page. This enables you to directly help us re-build Coondoo. Please donate now at: https://www.gofundme.com/f/nsucg4
2020 Events coming up
The new year is here and all things going well our Junior Academies will begin their Term 1 sessions on the SCUM trails and our new midweek twilight short course races will kick off on 6th of February*. This is a new style of racing for the club and should be just the ticket to kick off the new year with a bit of high intensity fun!!! The aim is keep it simple, quick and a blast. Keep an eye out for more details soon.
Our guided social rides start on the 7th of February*, again something new for the club with the focus on riding for fun and relaxation - group rides with a bunch of like-minded MTB folk. The first of our social rides is planned to take place at our Cabbage Tree Lane Trail. This will be a great opportunity for families to ride together. Everyone is welcome.
You will notice when the full calendar is up on the website that there is mention of a South Coast Interclub Series. There will be 4 races over the autumn months, starting with SCUM hosting the first of the series races on the 11th of April with our classic XC. Sutherland, Helensburgh and Southern Highlands will also host rounds over the following months. This is a great chance to try some new tracks, experience some new styles of racing and help build an even stronger mountain biking community. I hope many of our club members will be able to participate and grow this new initiative. On a related note - Sutherland is starting their race season on the 22 Feb with a short course race at Waratah Park, Sutherland. They have very generously offered the proceeds of this race to SCUM to help with the rebuild of Coondoo. I thank them for their support and hope some of our members can make it to that race.
*All dates and locations are subject to confirmation given the current forest closures, however we are seeking alternate locations to make things happen. Check our Facebook & Insta pages for immediate updates.
Nick Smee
Club President
---
January 2020 # 1- Bush fire Closure
Well 2020 is here, but it hasn't been so happy so far. The devastating and tragic bush fires affecting us all have not been a good start to the year. I hope that everyone in the club has been safe and have not suffered any property loss as so many in the south east of NSW have.
The current situation is that State Forests remain closed, so should not be accessed for riding or any other purpose. This is the situation until this current ban is lifted. This message was reinforced by the RFS, Nowra Branch whom we have consulted with. Lives are much more important than getting out on the single track. As soon as we know it is safe, we will let you know via Facebook, Insta and this website. Until then access to our trails is not permitted. For more details head to: https://www.forestrycorporation.com.au/visit/closures/widespread-closures-bushfires
At this stage, as far as we're aware the only track affected directly by the fires is Coondoo. It has been totally burnt out, with most bridges and structures damaged or totally lost. I would like to reinforce that Coondoo has been identified by the RFS as a particularly high-risk area and therefore remains off limits until further notice.
However, we will use this as an opportunity to rebuild and improve Coondoo, an already great track. As soon as we get the go-ahead from the RFS and the Forestry Corporation of NSW we will assess the damage and start planning the rebuild. I extend my thanks to the many riders from all over who have sent messages of support and pledges of help and materials. Stay tuned for the rebuild to start and come and give the club a hand. Coondoo will be bigger and better than ever, before you know it! We will post the dates for the rebuild and there will be a few, as this will be no small task.
Many other MTB trails have been affected with Wingello and I think Ulladulla also being hit by the fires, another favourite of so many riders. Our thoughts go out to those clubs and people affected.
On the bright side the calendar is almost ready to go and is jam packed with action starting from early February. Cross country, both XCO and Short Course, Flow Cross and Enduros should keep everybody entertained. Keep an eye out for the social rides as well, aimed to suit all riders and particularly those more interested in exploring and having a laugh or two along the way rather than racing.
So keep safe and we will be out on the trails before we know it.
Nick Smee
Club President
---
November 2019
The car park area of Coondoo is having some dead trees felled and removed on the afternoon of Wednesday 13 November. As such the trail will be closed for the duration (approximately 4:00pm to 7:00pm).
The team from A & D Tree Services will be performing the 'felling' activities and we are seeking assistance from members and other interested parties to do some clean up and removal of the felled trees ... we plan on using some of the timber for trail features plus a few other ideas.
If you have some time from approximately 4:30pm, we'd love to see you and your chain saw, gloves etc. Please be mindful that access will be limited whilst the felling is in progress.
---
August 2018
James Williamson Junior Development Camp opportunity. SCUM is seeking keen juniors to attend, and you could go for FREE ... head to our Novice / Junior page for more details.

---
June 2018 -
we've had some weather

...

Some trails will be more effected than others. Please take care and be responsible on the trails - i.e. if it looks too wet it probably is. Do the trails and your bike a favour, keep off them until things dry out a bit ...
---
April 2018
Bee Aware, there are some bee hives out at Superbowl ... Forestry Corp have been made aware - and the bees have now been removed.
---
Aug 2017
Spotted our new event trailer yet ... it's hard to miss.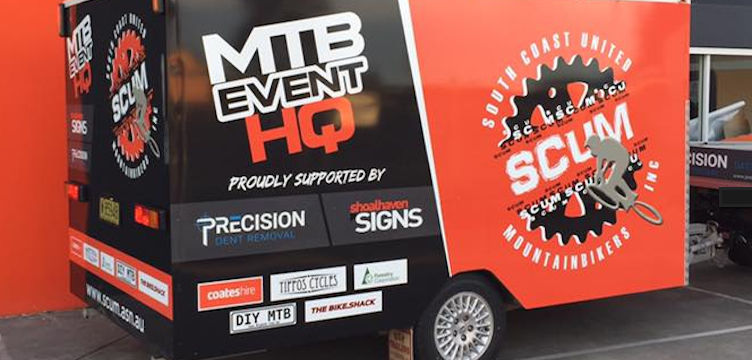 July 2017
Gimlet (at Coondoo) gets a make over ... onya Trail Crew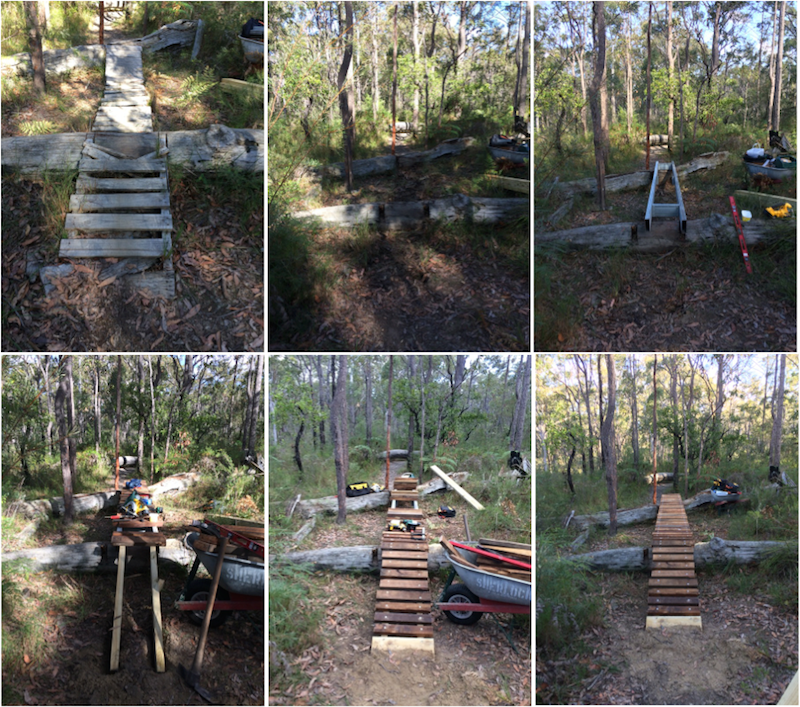 That Coondoo Berm
We've built a berm at Coondoo at the bottom of Rocky and Bullwinkle - get out there and ride it. Here's a few pics ...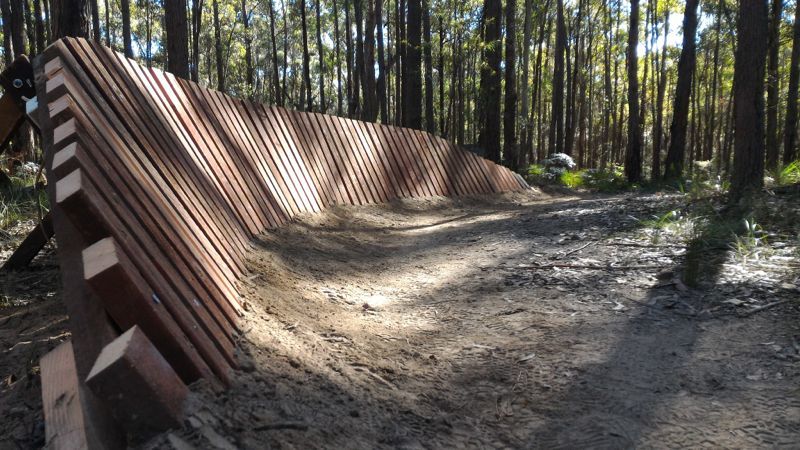 Where is this berm ...??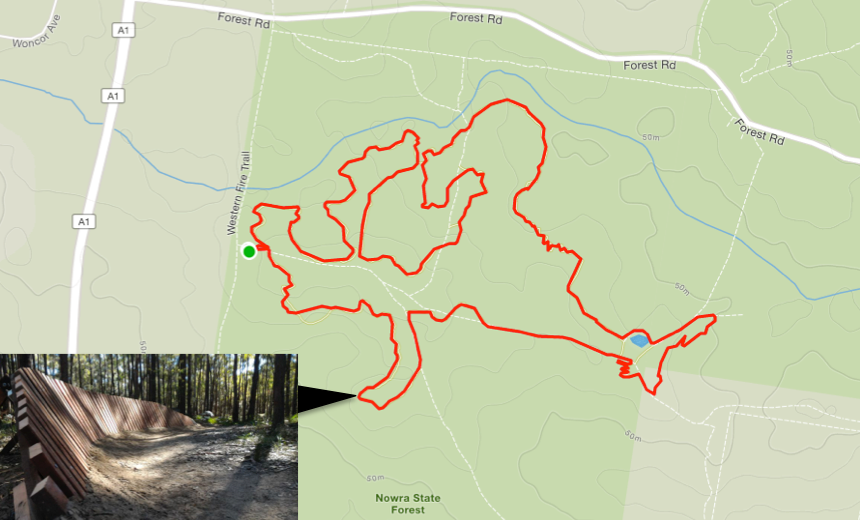 ---
April 2017

A top effort by the trail crew on the bridge just entering Cyprus Hill ... it was a case of out with the old and in with the new. All set for Round 1 of the XC series at Coondoo ...
OK the Simon and Garfunkel pun on the side bar of the website's home page is a bit old school; perhaps we need some younger web moderators ;)

---
August 2016
21/08/2016:
Some great work on Morrocco Mole @ Coondoo in preperation for the Coondoo 5hr Marathon - Fantastic Effort Trail Crew!! Can't want to ride this snaking platform ...
---