News & Weather
---
Watch the weather too as trails could be weather affected: Ride safe & have fun

---
May 2022 - All trails again temporarily closed :(
April 2022 - The wild weather continues
We started off this year on a real high with the announcement of the Bush Fire recovery grant from the Commonwealth Government. This is very exciting and will allow us to continue the development of all four club trails and trail head facilities. Then the rain started!!!
I can't believe the amount of rain that has fallen in the last 6 weeks. The trails are really suffering at the moment, with huge amounts of surface and ground water everywhere. As such it is vital that we keep off the trails, even if we get a couple of dry days. I was out at Coondoo earlier trying to prepare for the next onslaught of rain, and the amount of water amazing. The surface of some sections is really soft and will be very prone to damage.
Superbowl, Butterfly and Cabbage Tree Lane are much the same, with many very soft discharge areas. Cabbage is almost under water.
If we allow the trail to dry out, the damage will be manageable, if people use the trails before then the damage will be severe. Even a small number of riders will do much damage, and any motor bikes … a disaster.
As such the trails must remain closed till further notice.
As for events coming up on the calendar, trail work is scheduled for Superbowl this coming weekend on Saturday afternoon and possibly Sunday morning. This will be weather dependant, but will be vital for minimising damage. Please check on facebook to get any updated information on Saturday morning. There will be huge amounts of work to do as the trails dry out, so please keep an eye on the club's web page and other social media sites. Without help this task will be impossible to complete and our trails will suffer. It is a tough task for the few regular volunteers who struggle to keep the trails in great shape.
The next scheduled event is round 2 of the Flow X series at Superbowl on the 16th of April. Again, please check on the web page and socials for confirmation. At this stage, if the forecast is correct, it is unlikely that the trails will be able to be used, but the sun might come out …
Hopefully I'll see everybody out on the trails soon.
Nick Smee
President
Feb 2022 - Trail Bike riders damage Superbowl and Butterfly

In mid Feb 2022 Superbowl & Butterfly were damaged by trail bikes (motorbikes). Sadly a group of approximately 8 trail bike riders undid most of the hard work the trail crew and volunteers have done at both Superbowl and Butterfly, damaging the trails. NSW Police have been informed and are investigating.
If you spot trail bikes on SCUM trails please report them to Nowra Police: 02 4421 9699 (do not confront or abuse trail bike riders; simply report them to the police).
Please note, registered trail bikes are allowed to ride within NSW State Forests but they must follow the rules ...
"Vehicles, including trail bikes and 4WDs, are only permitted on roads, formed vehicle trails and fire trails. Creation of new tracks and bush bashing is not permitted. Single tracks through the bush, which may have been created by a previous rider, are not permitted and it is an offence for riders and drivers to both create or use single trails.
SCUM has an agreement with Forestry Corporation and has permission to maintain existing trails and build new trails, but only within agreed areas. SCUM supports legal trails and welcomes the appropriate use of State Forests by all users. It is such a shame when other users mistreat and abuse the forests through their ignorance and impact us all.
Please report any sightings to Nowra Police 02 4421 9699
May 2021 - Coondoo access road & carpark upgrade
We doing some work on the access road and car park during May. Keep an eye out for these great improvements...

---
February 2021 update - Coondoo is back (All trails now open)
Welcome to the SCUM February Newsletter.
The year is rocking on and we're already in February. Summer is on the way out and prime riding time is coming up.

There has been a lot happening over the last month, mainly with the trail work at Coondoo. The post fire tree work has finished so we are able to open up the whole of the track to riding.

- Coondoo is now fully open -
More work at Coondoo still needs to be done but get out and enjoy the trail, there's lots of the old (yes, that berm is back) but there is plenty of new too. You may have been watching the progress on Facebook or Insta so you'll have an idea of what's been happening.
At your next ride of Coondoo you will note lots of multi-line sections to add a bit of variety and many new features to spice it up. Make sure you make that first lap of Coondoo an easy one so you can scope out the new features.

We haven't forgotten the novice rider either, so all technical sections have an easy line through or around them to keep the trail accessible to all levels of rider. One more thing, when you are riding out there please keep in mind that the Trail Crew might be hard at work; give them some Kudos if you spot them. Remember if you want to give a hand just keep an eye out on our socials for the next dig and ride day.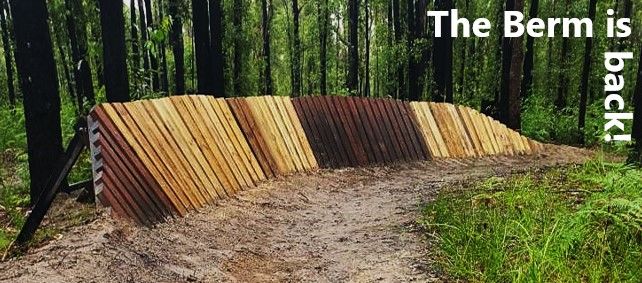 Our 2021 Event Calendar
The new calendar has been posted on our Website so check it out to see what's coming next. This Friday evening (12th Feb) will see the club's first social ride. This one will be at Cabbage Tree Lane, full details are available on our website or Facebook Event page.
The first competitive event will be Round 1 of the Flow X series. This will be held on the afternoon of Saturday 20 February at Superbowl. As is now the norm, entries will be online so remember to get them in. Full details are on the Club Website Events Page, with registration opening a bit closer to the event. Our XC series will kick off in March with a return to Coondoo; that should be a biggy as it will be the first race on the new look trail.
The SCUM Academy is also in full swing, with club coach Lynne Vaughan running sessions on Tuesday and Thursday for our aspiring champions. It was a bit of a wet start, but now both groups have had great sessions out at Coondoo, ripping up those new berms and jump lines.
Another event to look out for will be a Mountainbike focussed conference to be run by AusCycling in partnership with SCUM. This will be in early March. One day will be indoors focussing on the growing phenonium of the sport of mountain biking and the second day will be in the field looking at trail design, features, sustainability and maintenance. Keep an eye out for more information as it becomes available.

Get out there, make the most of this awesome weather and enjoy our trails.

Nick Smee
Club President
---
July 2020 update - Trails Open All EXCEPT COONDOO
It seems like a lifetime ago that I was writing my last newsletter to the membership and friends of SCUM. So long ago and so much has happened, but so much has stayed the same. I'd like to thank you for your patience and commitment to the club, sticking with us through these tough times. Know that we have been working hard behind the scenes and doing what we can to get up and running again as an active community Mountainbike club.
Our passion for the sport hasn't changed and our desire to deliver a great race season with fun and entertaining trails hasn't changed. The aims and goals of the junior academy are as strong as ever and development of a social ride side to the club is still high on the agenda.
I can also now share some fantastic news, as of this week Forest Corporation of NSW has opened up Shoalhaven, Nowra and Currambene State Forests. This means the opening of Cabbage, Superbowl and Butterfly Mountainbike trails for casual and club riding.
Coondoo is however still off limits due to the risk caused by fire damaged trees.
The good news for Coondoo is that we can now start the long-awaited rebuild (Thanks again to the many people who committed funds to this project). To start with this means a thorough evaluation of trees near the trail by an Arborist. This will take time so please be patient and respect the danger imposed by the fires. As soon as that task has been completed the actual rebuild work will commence. Keep an eye out on the social media for a callout to help as I know many are ready to get their hands dirty to get this iconic trail up and running.
With the easing of Covid restrictions now occurring you will have seen a move to start racing again. Our friends at Rocky Trail have a somewhat reduced, but great looking calendar up ready to go, so dust off your bikes and get your racing legs on and get out there. As a Club we will be starting racing soon and a calendar will be posted asap. The Junior Academy will be up and running again for term 3 and look out for social rides soon.
If you've worn out your riding kit whilst riding the roads then don't forget the Scum Club gear is available through Prism, check out the SCUM website for links on how to place a direct order with Prism.
So, stay tuned, keep an eye out on our social media, get ready and we'll see you on the trails real soon.
Nick Smee
Club President
---
January 2020 # 2- Trail Closure (Bush fires) update
Our Coondoo Trail remains completely off limits. Until the Forestry Corporation of NSW have the resources to properly assess the safety of this area and provide us with their decision regarding public access, we have no choice but to remain completely off-site. Representatives from the Forestry Corporation have informed us that this assessment may take some time to complete but have also assured us that they will do their best to make it a priority.
"Coondoo remains completely off limits"
I would like to take this opportunity to show my great appreciation to the Forestry Corporation and the Rural Fire Service for their efforts to try and save Coondoo. I know an immense amount of human and physical resources were put into trying to save this trail and the surrounding area. As a club we are very lucky to have strong support from the Forestry Corporation and we continue to prosper in our partnership with them.
While our Superbowl, Butterfly & Cabbage Tree Lane Trails have not been impacted by the fires, they too are currently off limits as all the State Forests in our region remain closed. However, we have sought 'special permission' from the Forestry Corporation to access these trails and feel confident that we have put forward a strong business case. Hopefully this will do the trick and the first Academy session scheduled for 31 Jan* at Superbowl and our first race set for 6 Feb* will be able to go ahead as planned.
The re-building of Coondoo
While we are waiting for the all clear to access and start the rebuild, we haven't been idle. A lot of work has gone into researching materials for the trail features and the gathering of resources has started. Companies like Ison's in South Nowra have offered generous support and we have purchased a quantity of "Ecograte" a product riders will be familiar with from many other trail networks to create the decks of bridges and log roll overs. Timber will still feature in many trail features though, like replacing the snake bridge in "Morocco Mole" and of course our "Wooden Berm". I'll keep the membership in the loop as things progress. We will have a Trail work day soon at Superbowl to try out some new materials and prepare for round 1 of the flow cross series, set down for 15th Feb*. As usual watch out on the Web, Facebook and Insta for upcoming working bees.
Raising funds for the re-building of Coondoo
As well as planning the re-build of Coondoo we have been busy exploring different ways to raise money to fund this huge task. Our peak body, Mountain Bike Australia has committed to supporting SCUM and other clubs impacted by the fires and we have been looking at different bushfire recovery grants as a way of securing much needed funds. However, it is likely to be some time before we see money from these sources. So to get the ball rolling we have started a Go Fund Me page. This enables you to directly help us re-build Coondoo. Please donate now at: https://www.gofundme.com/f/nsucg4
2020 Events coming up
The new year is here and all things going well our Junior Academies will begin their Term 1 sessions on the SCUM trails and our new midweek twilight short course races will kick off on 6th of February*. This is a new style of racing for the club and should be just the ticket to kick off the new year with a bit of high intensity fun!!! The aim is keep it simple, quick and a blast. Keep an eye out for more details soon.
Our guided social rides start on the 7th of February*, again something new for the club with the focus on riding for fun and relaxation - group rides with a bunch of like-minded MTB folk. The first of our social rides is planned to take place at our Cabbage Tree Lane Trail. This will be a great opportunity for families to ride together. Everyone is welcome.
You will notice when the full calendar is up on the website that there is mention of a South Coast Interclub Series. There will be 4 races over the autumn months, starting with SCUM hosting the first of the series races on the 11th of April with our classic XC. Sutherland, Helensburgh and Southern Highlands will also host rounds over the following months. This is a great chance to try some new tracks, experience some new styles of racing and help build an even stronger mountain biking community. I hope many of our club members will be able to participate and grow this new initiative. On a related note - Sutherland is starting their race season on the 22 Feb with a short course race at Waratah Park, Sutherland. They have very generously offered the proceeds of this race to SCUM to help with the rebuild of Coondoo. I thank them for their support and hope some of our members can make it to that race.
*All dates and locations are subject to confirmation given the current forest closures, however we are seeking alternate locations to make things happen. Check our Facebook & Insta pages for immediate updates.
Nick Smee
Club President
---
January 2020 # 1- Bush fire Closure
Well 2020 is here, but it hasn't been so happy so far. The devastating and tragic bush fires affecting us all have not been a good start to the year. I hope that everyone in the club has been safe and have not suffered any property loss as so many in the south east of NSW have.
The current situation is that State Forests remain closed, so should not be accessed for riding or any other purpose. This is the situation until this current ban is lifted. This message was reinforced by the RFS, Nowra Branch whom we have consulted with. Lives are much more important than getting out on the single track. As soon as we know it is safe, we will let you know via Facebook, Insta and this website. Until then access to our trails is not permitted. For more details head to: https://www.forestrycorporation.com.au/visit/closures/widespread-closures-bushfires
At this stage, as far as we're aware the only track affected directly by the fires is Coondoo. It has been totally burnt out, with most bridges and structures damaged or totally lost. I would like to reinforce that Coondoo has been identified by the RFS as a particularly high-risk area and therefore remains off limits until further notice.
However, we will use this as an opportunity to rebuild and improve Coondoo, an already great track. As soon as we get the go-ahead from the RFS and the Forestry Corporation of NSW we will assess the damage and start planning the rebuild. I extend my thanks to the many riders from all over who have sent messages of support and pledges of help and materials. Stay tuned for the rebuild to start and come and give the club a hand. Coondoo will be bigger and better than ever, before you know it! We will post the dates for the rebuild and there will be a few, as this will be no small task.
Many other MTB trails have been affected with Wingello and I think Ulladulla also being hit by the fires, another favourite of so many riders. Our thoughts go out to those clubs and people affected.
On the bright side the calendar is almost ready to go and is jam packed with action starting from early February. Cross country, both XCO and Short Course, Flow Cross and Enduros should keep everybody entertained. Keep an eye out for the social rides as well, aimed to suit all riders and particularly those more interested in exploring and having a laugh or two along the way rather than racing.
So keep safe and we will be out on the trails before we know it.
Nick Smee
Club President
---
Some History ...
Aug 2017
Spotted our new event trailer yet ... it's hard to miss.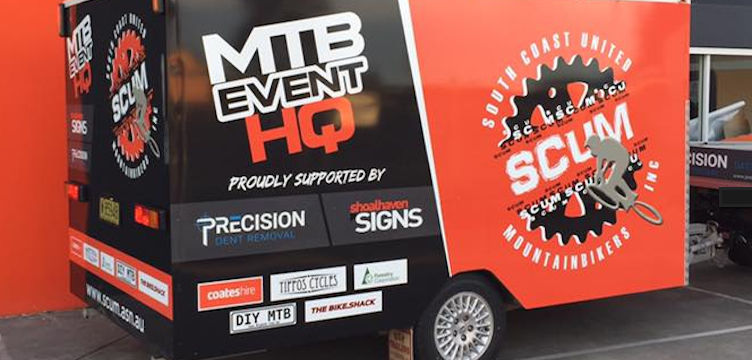 July 2017
Gimlet (at Coondoo) gets a make over ... onya Trail Crew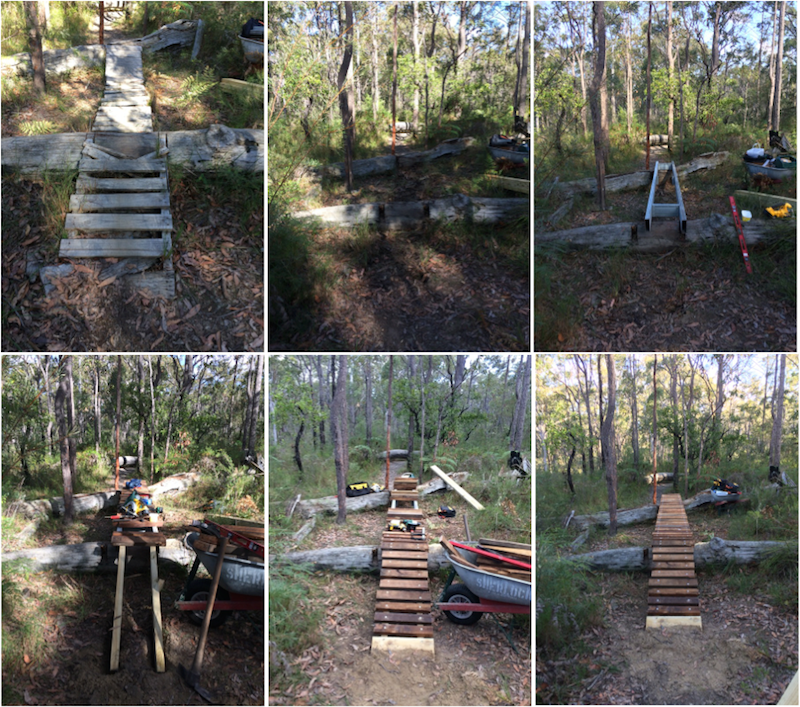 That Coondoo Berm
We've built a berm at Coondoo at the bottom of Rocky and Bullwinkle - get out there and ride it. Here's a few pics ...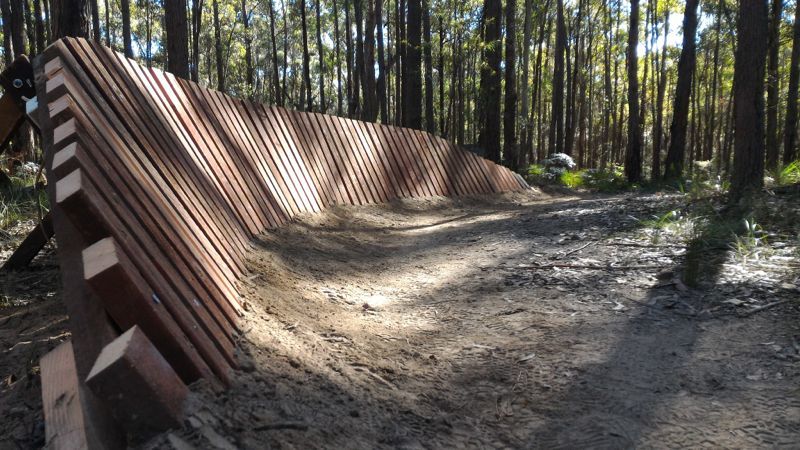 Where is this berm ...??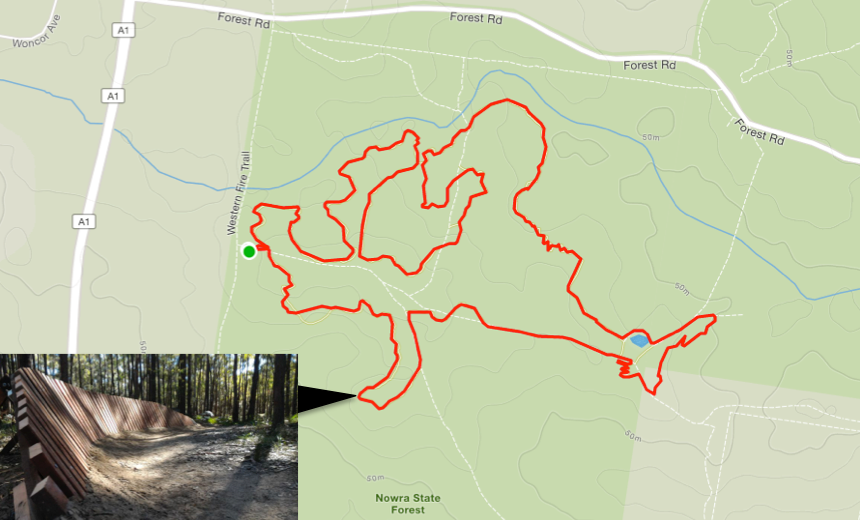 ---
April 2017

A top effort by the trail crew on the bridge just entering Cyprus Hill ... it was a case of out with the old and in with the new. All set for Round 1 of the XC series at Coondoo ...
OK the Simon and Garfunkel pun on the side bar of the website's home page is a bit old school; perhaps we need some younger web moderators ;)

---
August 2016
21/08/2016:
Some great work on Morrocco Mole @ Coondoo in preperation for the Coondoo 5hr Marathon - Fantastic Effort Trail Crew!! Can't want to ride this snaking platform ...
---