SCUM Academy
For younger riders that want to improve their MTB skills.

The SCUM Academy is a great way for younger riders to improve their skills.
There are two academy squads; a "Groms" squad and a "Shredders" squad.
The "Groms" squad is suited to less experienced riders and those relatively new to mountain biking, however riders must be confident on their mountain bike; this is not a "learn to ride group". The "Groms" usually meet on Tuesdays (subject to change).
The "Shredders" squad is suited to more advanced riders who have some solid riding experience and are looking for a more intensive training experience. This squad will ride at a variety of trails and it will be expected that "Shredders" will compete at SCUM races as well as other MTB races representing SCUM. The "Shredders" usually meet on Thursdays (subject to change).

Numbers are limited, with a maximum 10 per group. If the EOI exceeds the number of spots available, participants will be chosen based on merit, participation in MTB events and demonstrated commitment to SCUM.
For enquiries, send an email to info@scum.asn.au
The coach for both academies is Lynne Vaughan, accredited MTB coach.
Eligibility and Terms & Conditions (T&C's)
To be eligible for the Academy riders must meet all criteria:
Be a Race Member (either Off-Road or All Discipline) of AusCycling with SCUM nominated as your club (NB: NOT a Free Trial membership)


Aged between 12-

17 years


Have a well maintained mountain bike and an Australian approved helmet

Be able to commit to the full term program, attending one session per week
Where to find our trails:
Cabbage Tree Lane is easy to find ... it's just off Yalwal Road, West Nowra, about 1 km down 'Cabbage Tree Lane'. There's a MAP on our Social Scene Page and a Google map link is right here
For directions to Coondoo and all other SCUM trails click here.
PARENTS / HELPERS - If you're keen to help out in the SCUM academies - please let us know. All helpers must hold a valid Working With Children Check (WWCC) from the Office of the Children's Guardian - the 'Free' volunteer option is all that is required. For more details or to volunteer shoot contact us via our contact page or direct at info@scum.asn.au

---
Active Kids Program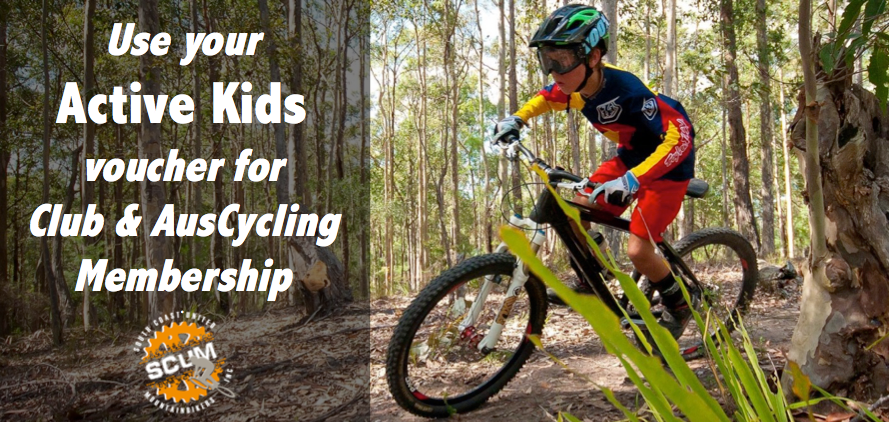 Did you know you can use your Active Kids voucher to join SCUM. AusCycling is pleased to be a registered activity provider with the NSW Government's Active Kids program and can accept Active Kids Vouchers!
Vouchers can be used for club and AusCycling membership; unfortunately they cannot be used for individual events entry fees.
To use a voucher follow the instructions on the AusCycling website: https://auscycling.org.au/membership/other/activekids

---
James Williamson Junior Development Camp 2019
Applications have now closed for 2019. SCUM is super pleased to support a number of junior riders to attend.

The Camp is a great opportunity to learn from some of Australia's highest level mountain bike riders; think skill sessions, rides and discussions. You'll gain experience with all aspects of riding as well as some mechanical know how, training tips and competition tips. All whilst having a whole lot of fun.
To be eligible for SCUM assistance you must be:
A financial member of the Club; both now and for the duration of the camp (i.e. a MTBA member with SCUM as your nominated club).

Aged between 13-17 years.

Able to demonstrate previous 'race experience' at a SCUM event and potentially other events.

Keen to take your Cross Country mountain biking skills to the next level.

Able to provide a written reference from the club (we'll help out with this one).
Also:
How to apply? NOW CLOSED

Complete

the application form found here

. SCUM will provide you with a written reference.
Post or Email your completed application form to Meg Patty by 7th Sep 2019 (as outlined within the application form).
A full description and details of the requirements of the camp can be found at this link.
When will I find out if SCUM will assist me with funding?
If you are successful in gaining a place in the Willo Camp, please advise SCUM via e-mail to info@scum.asn.au as soon as you are aware. Once the SCUM Committee know how many junior members will be attending, we will advise how much we can contribute. Our aim is to support all riders as much as possible.
Please note: The Willo organisers will determine who attends the camp. Places are limited and a reference from the SCUM committee does not guarantee your acceptance.
---
Novice / Junior riders
Novice events cater for anyone new to Mountain Biking. If you want to get out there and have a go without feeling the need to 'race' then this style of event is right for you. Previous participants have included mums, dads, brothers, sisters, young and old; anyone that was keen.
Novice events coincide with each of the XC events and take in some of the best bits of each trail. They are short and sweet with a few of the bigger lumps and bumps excluded. Each Novice event runs in a marathon style with the course closing after the 30 minute mark, riders can do as many laps as they want or can in the allocated time (the overall riding time can therefore vary - can be up to approx 45 minutes).
Kudos to Mason Mawer & Scott Woods for coordinating the Novice events, plus all of the extras that regularly lend a hand; we can always use more help though so don't be frightened to put your hand up.