SCUM Academy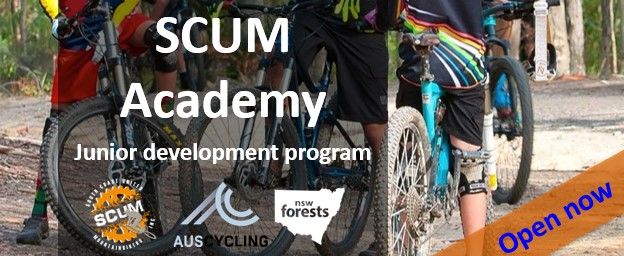 For younger riders that want to improve their MTB skills.
The SCUM Academy is a great way for younger riders to improve their skills.
There are two academy squads; a "Groms" squad and a "Shredders" squad. Maximum 10 per group.
The "Groms" squad is suited to less experienced riders and those relatively new to mountain biking, however riders must be confident on their mountain bike; this is not a "learn to ride group". The Groms squad will ride at a variety of trails. It is expected that "Groms" will regularly compete at SCUM events and participate in SCUM trail work days The "Groms" meet on Tuesdays on a variety of SCUM trails.
The "Shredders" squad is suited to more advanced riders who have some solid riding experience and are looking for a more intensive training experience. The Shredders will ride at a variety of trails. It is expected that "Shredders" will regularly compete at SCUM races, as well as other MTB races including the annual "Willo Enduro" and the "NSW State Titles" representing SCUM. Participation at SCUM trail work days is also expected. The "Shredders" meet on Thursdays.
The coach for both academies is Lynne Vaughan, accredited MTB coach. For enquiries, send an email to info@scum.asn.au
Eligibility and Terms & Conditions (T&C's)
To be eligible for the SCUM Academy riders must meet all the criteria below:
Be a Race Member (either Off-Road or All Discipline) of AusCycling with SCUM nominated as your club (NB: NOT a Free Trial membership)

Aged between 12-17 years

Have a well maintained mountain bike and a safety approved helmet

Be able to commit to the full term program, attending one session per week
Notification of available spots in the SCUM academy are posted on SCUM's Facebook and Instagram sites. Keep a look out at the end of each term or in the school holidays for posts requesting and EOI for the next term. EOI are to be sent to info@scum.asn.au and include the following information;
the squad you wish to apply for,

your full name,

DOB,

contact number,


Auscycling membership number,

A few sentences describing why you would like to be part of the SCUM academy
Please note:
If the EOI exceeds the number of spots available, riders will be chosen based on merit, participation in MTB events and demonstrated commitment to SCUM.
The Academy Coach reserves the right to transfer riders to the alternative academy group following a full assessment of the riders current riding ability and skill level
Parents/Helpers
If you're keen to help out in the SCUM academies - please let us know. All helpers must hold a valid Working With Children Check (WWCC) from the Office of the Children's Guardian - the 'Free' volunteer option is all that is required. For more details or to volunteer contact us via our contact page or direct at
info@scum.asn.au
---
Active Kids Program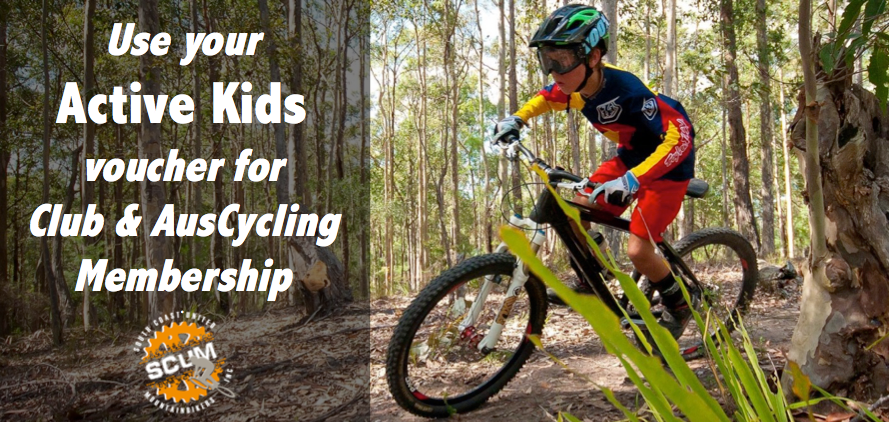 Did you know you can use your Active Kids voucher to join SCUM. AusCycling is pleased to be a registered activity provider with the NSW Government's Active Kids program and can accept Active Kids Vouchers!
Vouchers can be used for club and AusCycling membership; unfortunately they cannot be used for individual events entry fees.
To use a voucher follow the instructions on the AusCycling website: https://auscycling.org.au/membership/other/kidsvouchers
---
Novice / Junior riders
Novice events cater for anyone new to Mountain Biking. If you want to get out there and have a go without feeling the need to 'race' then this style of event is right for you. Previous participants have included mums, dads, brothers, sisters, young and old; anyone that was keen.
Novice events coincide with each of the XC events and take in some of the best bits of each trail. They are short and sweet with a few of the bigger lumps and bumps excluded. Each Novice event runs in a marathon style with the course closing after the 30 minute mark, riders can do as many laps as they want or can in the allocated time (the overall riding time can therefore vary - can be up to approx 45 minutes).
Kudos to Mason Mawer & Scott Woods for coordinating the Novice events, plus all of the extras that regularly lend a hand; we can always use more help though so don't be frightened to put your hand up.